IS YOUR CAT EATING AT THE CORRECT ANGLE AND HEIGHT?
SpineSafe Cat Feeder 
Top veterinarian
Dr. Jennifer Freeman (D.V.M)
announces that
elevated food or water bowls
for your dog or cat are not only more comfortable for your pet but they are
proven to reduce back and neck issues
caused by the animal having to bend too far down to get to their food or water.
Regular bowls tend to be very uncomfortable for cats to eat out of and you can see your pets' overall health improve by just changing the way they eat!
Deep, hollow bowls not only add strain on their necks but also makes them want to eat too quickly, causing indigestion, vomiting, and a whole lot of pain. It puts your poor kitty under a lot of stress and may also make them disinterested in mealtime altogether!
FOR THIS REASON, WE HAVE MADE THE SPINESAFE ANTI-VOMIT BOWL
This elevated and 15 degree tilted cat bowl allows your cat to easily reach in and enjoy their food without any strain, pain, or discomfort.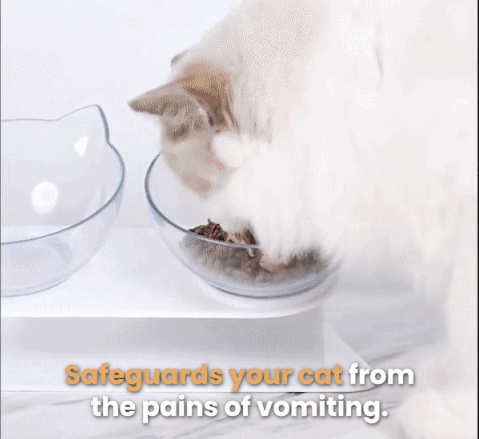 Scientific Feeding - Tilted 15° to protect the cat's cervical spine. A comfortable feeding height promotes digestive health. Great for pets with arthritis, neck, or back problems.

Stand Included
- The elevated dining position fits in with veterinarian guidelines of between 4 and 6 inches which helps with digestion as it opens up their air passages.
Non-slip / Non-skid- Got a messy eater? You don't want the stand moving around on your hungry cat. Both non-slip and tip-proof, everything stays just where it should.


BPA & Non-Toxic - Don't worry if kitty-cat licks the bowl for hours. The materials are FDA approved for use.


Easy to Wash
- The bowls are removable and are dishwasher safe.
Purrfectly Shaped
- A curved bottom makes it easy for cats to clear the bowl.
Our Anti-Vomiting Orthopedic Cat Bowl is designed with your cat's well-being in mind to safeguard your kitties from the risk of spinal damage and/or vomiting-related issues.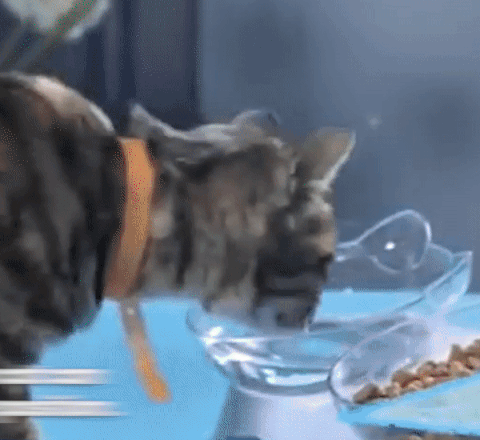 SPECIFICATIONS
Material: BPA & Toxic Free Plastic
Size: Double: 26.5 x 13 x 8 cm
Size: Single: 13 x 13 x 8 cm


HOW TO USE
Just put your bowls in the stand, rotate them clockwise and watch your cat tuck into their favorite food.
Show your cat a little love and get them something extra special. Order yours today, and keep your kitty-cat happy and healthy.